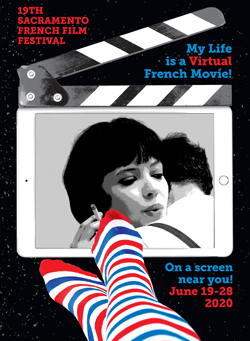 [Disclaimer: This is a sponsored post. Thanks to the Sacramento French Film Festival for giving me a complimentary Festival Pass. The opinions expressed in this blog post are based on my personal views, as always.]
Bonjour and happy Friday!
Just in time for the weekend, the virtual edition of the 19th Sacramento French Film Festival (SFFF) starts today, Friday, June 19 and ends on Sunday, June 28, 2020.
Many years ago, I lived in the Sacramento, California area when I was an undergraduate student at UC Davis. I was double-majoring in international relations and French — how I wish this French film festival had been around then!
Established in 2002, the SFFF began as a 6-day film festival. This year, they're showing 10 films in 10 days. As we're still in the middle of the pandemic and practicing physical distancing, the festival is going virtual.
That means that everyone can join the festival from anywhere in the United States!
According to the SFFF website, the festival "brings people together around films and French culture in a festive atmosphere. [It] celebrates the artistic, cultural, social, and historical values of films. It fosters friendly relations between American and French people through the universal language of art."
Festival supporting sponsor, Patrice Peyret adds, "This gives anyone interested in French culture an opportunity to see exclusive and recent French movies (with English subtitles) without having to travel to Sacramento."
Here are the 10 films that will be shown (virtually):
Friday, June 19, 2020: The Mystery of Henri Pick (Le Mystère Henri Pick)
Vacationing on the coast of Brittany with her writer boyfriend, a young and ambitious publishing executive, Daphné visits the "Library of Refused Books."
Saturday, June 20, 2020: Alice and the Mayor (Alice et le maire)
The mayor of Lyon, France's second-biggest city, is going through an existential crisis: after 30 years in politics, he is running on empty, out of ideas. His staff brings a brilliant young philosopher to fix his problems.
Sunday, June 21, 2020: Gloria Mundi
A drama about generational divide and the gig economy.
Monday, June 22, 2020: My Dog Stupid (Mon chien Stupide)
A comedy about a writer facing a mid-life crisis.
Tuesday, June 23, 2020: The Dazzled (Les Éblouis)
Based on a true story of a young woman whose parents' devotion to the Catholic community grows increasingly fanatical.
Wednesday, June 24, 2020: #Iamhere (#jesuislà)
A prominent French chef with two adult sons and an ex-wife, falls in love with a woman from South Korea. While trying to reach her on Instagram #jesuislà (#Iamhere), he becomes a social media sensation.
Thursday, June 25, 2020: Camille
A biography about Camille Lepage, the 26-year-old photojournalist who was killed while covering the civil war in the Central African Republic between Muslim fighters (the Séléka) and Christian militias (the anti-balaka).
Friday, June 26, 2020: Fishlove (Poissonsexe)
A biologist is part of a small team in charge of mating the last couple of fish in the world.
Friday, June 26, 2020: Arab Blues (Un Divan à Tunis)
A Tunis-born psychotherapist who, having lived in Paris since age 10, has just returned to her homeland to start her practice.
Friday, June 26, 2020: Oh Mercy! (Roubaix, une lumière)
Two police officers solve cases in different ways in Roubaix, a city in the north of France.
Looks like there's a little bit of something for everyone to enjoy. I'm looking forward to watching #Iamhere, Camille, and Arab Blues.
How the Virtual Film Festival Works
Individual films can be rented for $12. After you've rented a film, you have 3 days (72 hours) to watch it. Once you've started watching a film, you can view it as many times as you want for 30 hours. A new film is made available to view each day beginning Friday, June 19 until Thursday, June 25. On Friday, June 26, the final three films will be made available so that you can watch them during the weekend.
There's a discount when you purchase a Festival Pass, which will give you access to all 10 films as they are made available.
You can also chat with festival organizers and film directors by signing up to attend any of the virtual Q&A sessions on Zoom.
Allons-y! (Let's go!)
To rent a film or purchase your Festival Pass, go to 2020 Sacramento French Film Festival TODAY!
[Updated: June 25, 2020]